Dirtbag Days in Leavenworth and Seattle, WA Late October 2017
I planned in some free time in between jobs and managed to budget a short trip to Washington where I could crash on a couple of futons/tent floors with friends and family. Fortunately for me, I had never been to Washington except on layover, so I was quite excited to get a tiny taste of Roctober Cascade life, and of course to see what kind of hipster scenes were around Seattle.
After a quick obligatory visit to Feathered Friends, I headed over to Seattle's U-District to meet up with my friend, Eli. We opted for a quick bike-ride to pass the time and catch up. I had reminded myself over and over that I was lucky considering the infamous PNW weather. It was mid-sixties with a cool breeze to keep you feeling fresh and sunny enough to keep the chills away. Also, Green Lake during the early afternoon mid-week was extraordinarily pleasant. As Eli had been informed me, the usual amount of traffic that clogs up the paths makes bike riding around it rather obnoxious. After some hipster sights (park yoga, slack-lining, guitar playing, roller-blade dancing....), I met up with Angela, Xavier, Ali, and Michael, a grad student of UW, for some hipster beer and pizza, all really convenient since everything was walkable in Queen Anne. Afterwards, Angela and Xavier parted ways (this was midweek afterall) and Ali, Michael, and I picked up some last minute supplies to prep for some time needed in the mountains. Next up, the canyons of Leavenworth, WA.
We made quick work of a nice little warm-up trad route called R & D, again with perfect weather considering we're in the PNW. Michael needed to get back to Seattle, so the rest of our time best spent was to head towards some smaller sport crags down the road.
Ali declared she had been to this area, Clamshell Cave, so we could make a quick transition over to some cragging. Two crags and 1 hour later, we finally arrived.
After Ali and I sent GRTC, we hopped over to Shrimp Salad and finished on Keep Clam. A nice and easy day considering I hadn't been on rock since early July.
We headed to the quirky town of Leavenworth for 'wursts before saying goodbye to Michael. Ali and I decided to camp and hike over to Colchuck Lake the next day, hoping the weather would continue to hold out for us.
Ali had stayed near the Eightmile Campground before, so finding the site and pitching in the dark was quick and easy. I don't think the temps even dipped below 50F that night. The next morning was quite serene, and we headed out to Colchuck Trailhead.
Pleasant hiking conditions lead to great picture opportunities. Ali and I were moving pretty quickly and the conditions were pretty excellent, so we attempted to top Asgaard Pass, but we soon found ourselves climbing a recent rock slide path that had taken out the trail just a few days before. Since we didn't plan to even climb passed the lake, we decided to call it a day being somewhat ill-equipped and low on time (we started ascending the pass around noon) for the ascent. I think we made a good choice and made it back to Seattle by 8pm, drive-through McDonalds holding us over.
Golden Larches were found.
Swapping from friend to family, I met up with Angela and decided to finish off my trip with derping around Seattle, snapping pictures like your typical tourist. We did manage to walk through Discovery Park, which lastly, was very pleasant with perfect weather. My view on Seattle may have to be biased for now.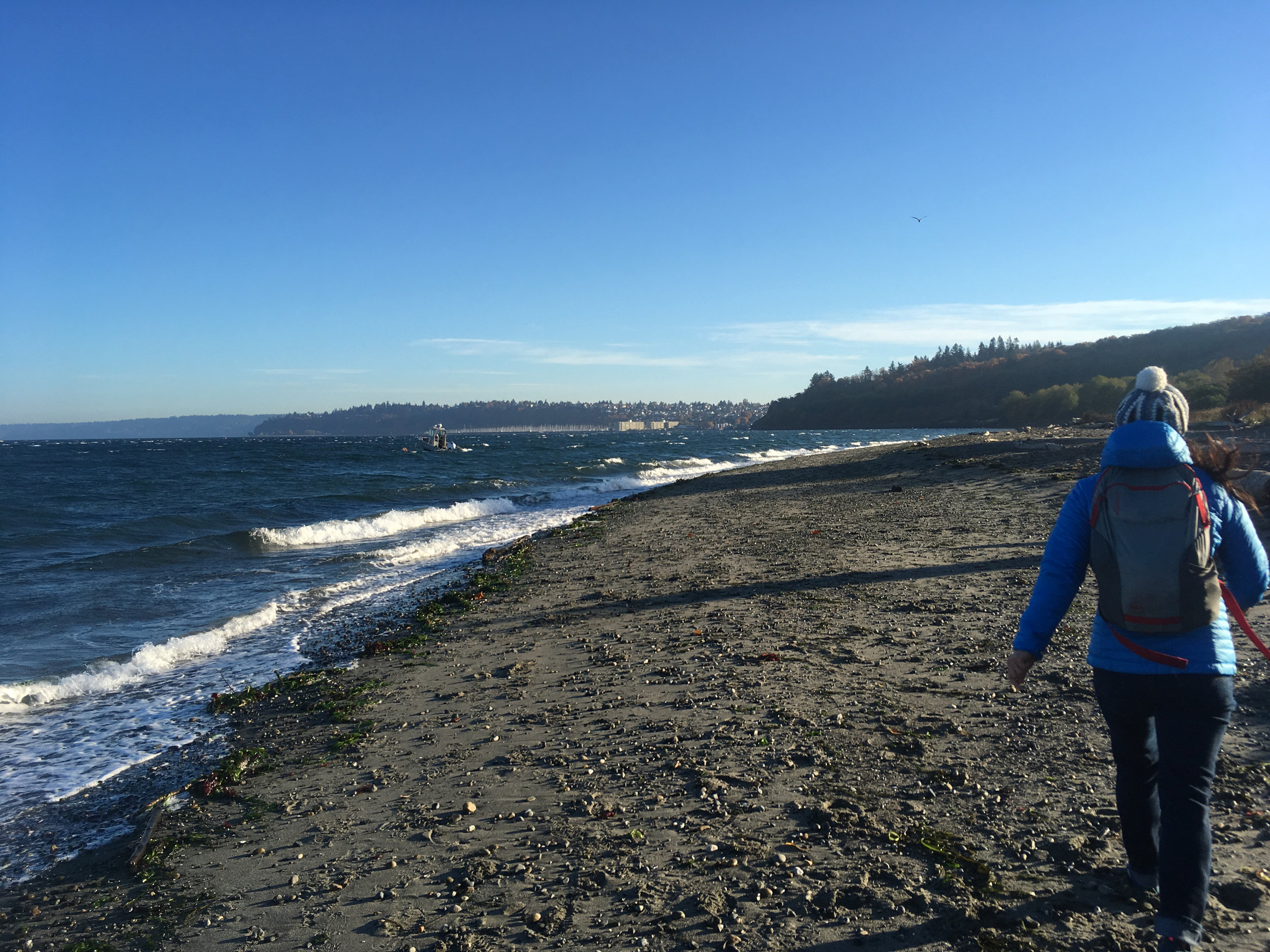 Flying home was the cherry on top, as I selected an afternoon flight and nabbed a window seat. Mt. Baker side.